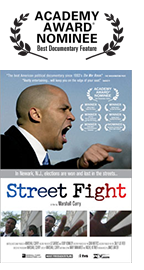 Street Fight
is the Academy Award nominated documentary film that chronicles the bare-knuckles race for Mayor of Newark, N.J. between Cory Booker, a 32-year-old Rhodes Scholar/Yale Law School grad, and Sharpe James, the four-term incumbent and undisputed champion of New Jersey politics.
Fought in Newark's neighborhoods and housing projects, the battle pits Booker against an old style political machine that uses any means necessary to crush its opponents.

The battle sheds light on important questions about democracy, power and -- in a surprising twist -- race. Both Booker and James are African-American Democrats, but when the mayor accuses the Ivy League-educated Booker of not being "really black" it forces voters to examine both how we define race in this country. "We tell our children to get educated," one Newarker says, "and when they do, we call them white. What kind of a message does that send?"
Street Fight tells a gripping story of the underbelly of democracy where elections are not about spin-doctors, media consultants, or photo ops. Sometimes, we discover, elections are won and lost in the streets.

"An electrifying, suspenseful film, full of street-level political drama."
- Andrew O'Hehir, Salon.com
"Vastly entertaining... Street Fight will keep you on the edge of your seat."
-John Anderson, Variety
Winner: Tribeca Film Festival Audience Award
Winner: Hot Docs Film Festival: Audience Award
Winner: Hot Docs Film Festival: Best Interntaional Documentary
Winner: AFI/Discovery Silverdocs Film Festival: Audience Award
© 2014 Marshall Curry Productions. All rights reserved.